Hi Visitors
We would like to share with you some positive feedback from our customers after they using our product ,our sleep glasses is helpful to them .
We really hope our special glasses can help a lot of people, with PEGASI glasses ,say goodbye to sleep disorder ,get rid of sleep pills , have a nice sleep and be energetic every day .
No.1 .Customer Voice
Problems: Insomnia , hard to fall sleep , wake up during sleep.
Lancelot Pinto is from India and he works in UAE , below was the conversation we talked on Whatsapp before.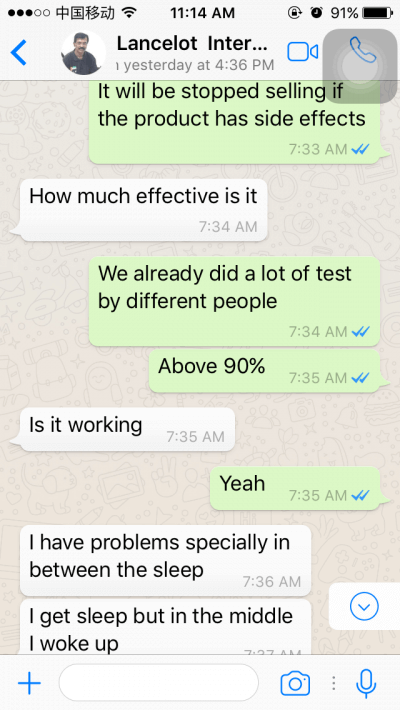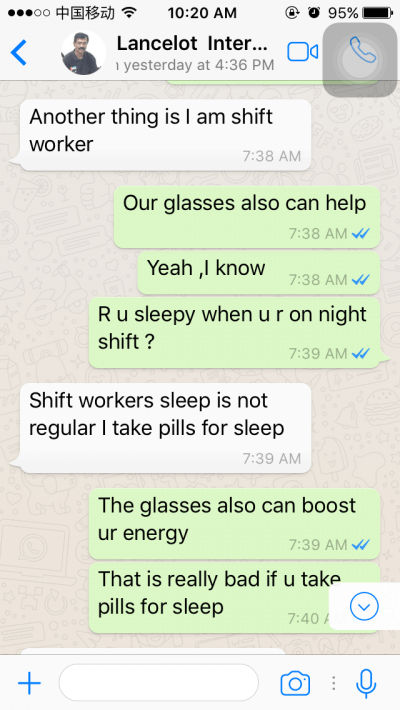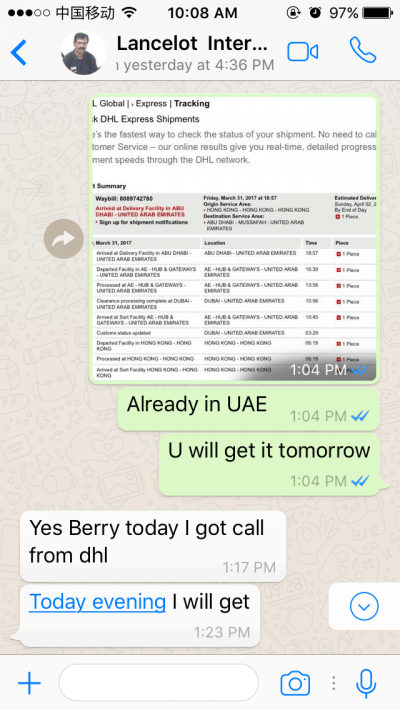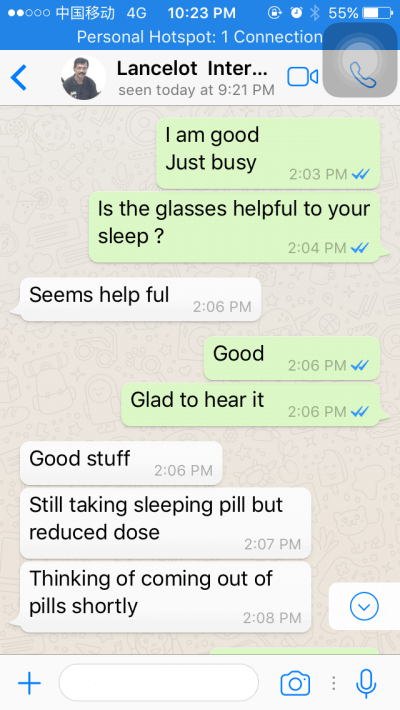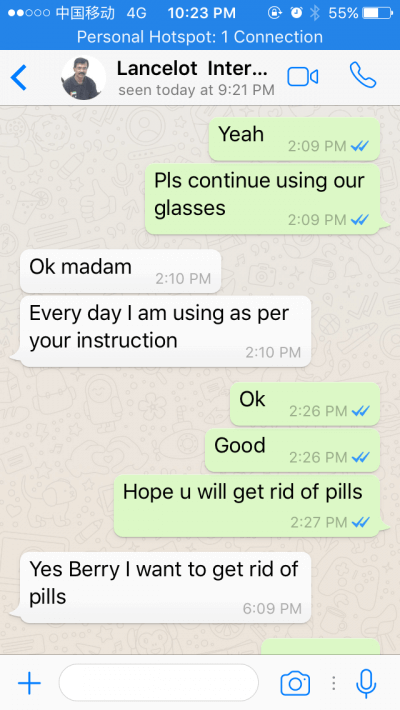 No.2 .Customer Voice
Problems: Jet Lag
Cressa Chalmers is from USA and she bought PEGASI glasses for her husband on our Amazon store, below was the conversation we talked on Whatsapp before.
She also left positive feedback on our store .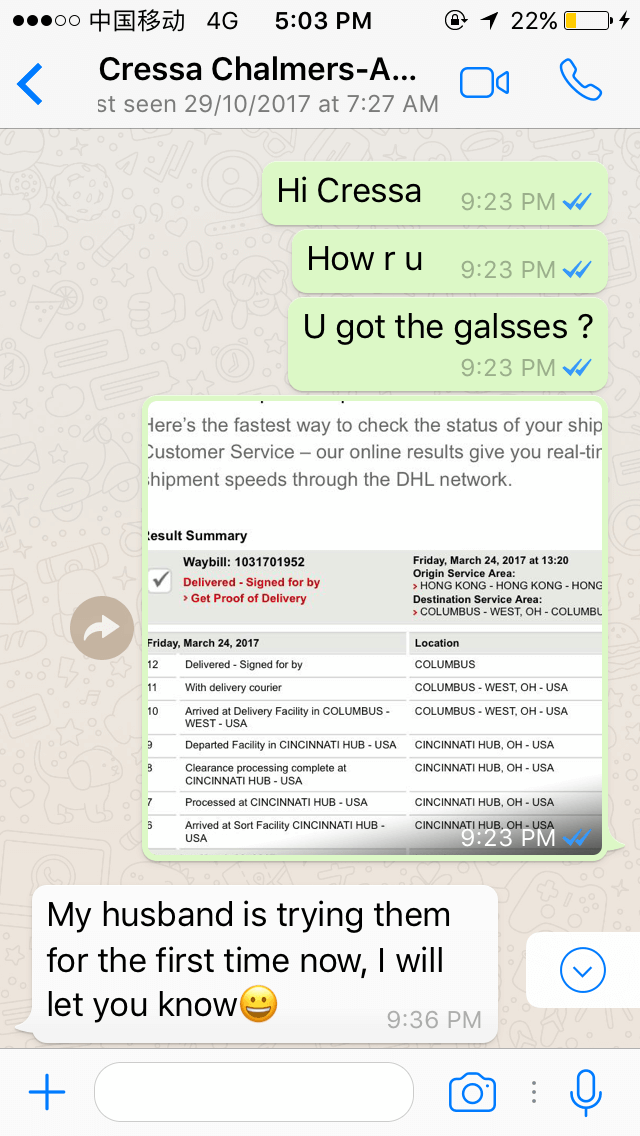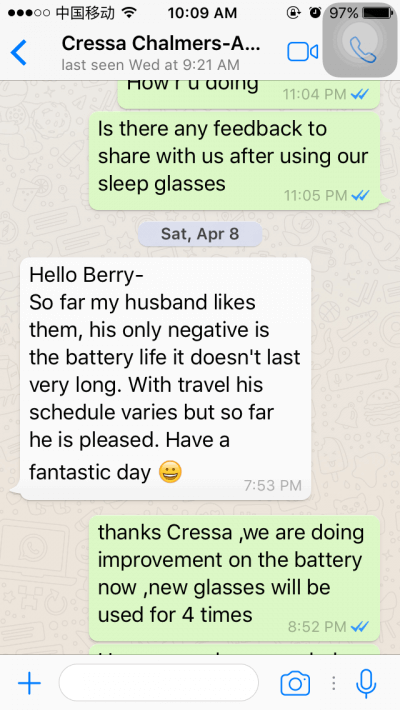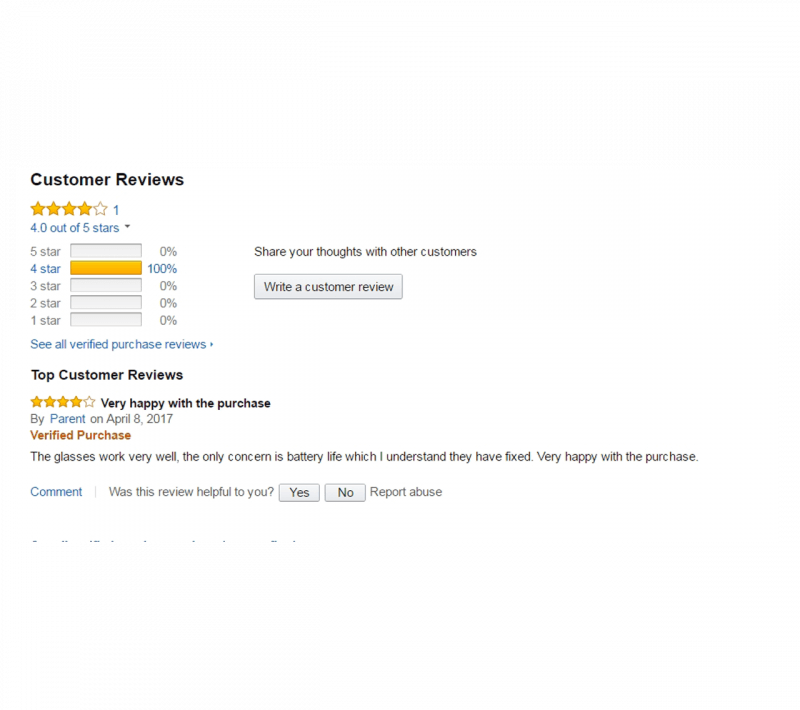 No.3 .Customer Voice
Problems:  Poor quality of sleep
C1.I've been suffering from sleeplessness for several months. I had trouble falling asleep and woke up frequently at night, and I would wake up several times a night, not just once or twice, and then hard to fall asleep again. These symptoms really ruined my life, I often felt tired and depressed all day long. I've tried many ways to solve these sleep problems but failed anyway. Luckily, one of my friends recommended me light therapy glasses, then I tried to search online and found PEGASI at Amazon. Well, I found another brand first. But for the glasses of that brand, it feels too heavy for me, many users said it's not so friendly to nose, bulky and too tight. My head is quite sensitive and I can't even wear hairband!
C2 .Pleased with my decision buying it. I have been working nights for 2 years, but can't fall asleep easily in the day, from time to time I also experience poor quality of sleep.
I bought the Pegasi to see if light therapy works for me. It is so effective, only took a few days showing the differences, I have better sleep quality and improved mood now. I usually wear them before I go on shift, which can keep me alert for about 8 hours. I will not feel sleepy when at work and can fall asleep much more easily after getting off work.
C3.How effectively these glasses can improve my mood and sleep quality after using them for a few weeks has really surprised me. I have been suffering from sleep issues, sometimes compounded by SAD, I had no ideas how to deal with it. My doctor recommended me several ways including light therapy to make me sleep and feel better. Tried light boxes then but found out light therapy glasses seem more convenient, so I bought the Pegasi. By far these glasses work even better than my light therapy lamp!
C4.I wear mine during light exercise in the morning. Worked immediately for resetting my circadian rhythm. I've also noticed steady incremental improvements in mood. I've been wearing for about a week. Can choose from 3 intensity levels through the paired app and check battery levels. Glasses shut off after a set period determined by the intensity chosen. The default setting is medium intensity for 30 minutes. Does not interfere with vision in a lighted room, but does interfere in a very dark room. They look pretty cool, and they're definitely more convenient than a conventional light therapy lamp. They come with a very short usb cable. You'll have to charge through a usb port in a device or through a compatible phone charger, because the cable does not include the adapter piece for an electrical outlet. That's my only gripe.
C5.This is a mixed review. I give them a 5 and a 1 so i averaged it out to a 3. I give the glasses a 5 because I did notice a difference in my sleep from the very beginning. I give them a 1 because I also noticed some side effects in terms of my mood. When I use them, I get angry very easily. I have had some mini rage fits that have scared me in their intensity. They subsided as soon as I stopped using the glasses. I have contacted the people that I purchased them from to see if they have any suggestions or information to pass on because I really want to keep using them.
My concern about this product is that it is being sold as a consumer electronic device when it's really a medical device that hasn't been approved by the FDA.
To recap, I do feel they help with people with sleep problems. But at least for me, they also caused some disturbing changes in my mood. Proceed with caution.
C6.So far I believe my sleep quality and length has improved.
I had been having disrupted sleep for over 6 months (origin unknown). I even stopped caffeine in November.
Nothing seemed to be helping. I was waking up around 2 a.m. and had trouble getting back to sleep. It was very frustrating. I had tried Melatonin and found no relief.
A friend told me she has a "blue light" on her desk and she believes it helps her.
I was willing to give this device a try.
I started wearing them in the evening to push my circadian rhythm and extend the time I would be asleep.
I then started wearing them (30 minutes) in the morning to continue readjusting my sleep pattern. I then started using them 1-4 x per day to extend and reset my sleep pattern.
The last 2 nights I went to bed around 9p.m. (feeling tired) and got up once in the night, fell back asleep and slept until 5a.m.
I believe this product has been helpful. I will continue to use the product and hopefully it allows me to get a balanced sleep schedule.
By the way: When I wake up in the a.m. I do feel refreshed and restored.
Totally happy with the purchase of this product, easy to use, very therapeutic.
C7.The idea behind it is valid. After using I do not think it made a big difference in my sleep or emotions but I think it could help others. It functioned as described although at times it seems to lose the link up with the app eg starting stopping the light. There is a way in the app of recording baseline sleep and future changes that seems valid to me.
C8.My mom has struggled with insomnia for a long time. These glasses really are making a big difference for her and she is getting better sleep for longer periods of time than she has in years.